Walk-In Tub Safety Features
Safety Features
Your bathroom should be a source of comfort, not fear. Our walk-in tub comes standard with a variety of features that are engineered to meet all your safety needs. That's the Safe Step® promise.
Anti-slip tub floor and seat
Relax knowing our anti-slip technology will prevent you from slipping on wet surfaces.
Built-in grab bars
Protect yourself from dangerous falls with two sturdy built-in grab bars, standard in every tub.
"Safe Water" Cleaning System
Enjoy ultimate cleanliness with our top-of-the-line sanitation ozone purification system. As the Hydro Jets flow, the water runs through an ozone generator ensuring only clean water is recirculated . It's like taking a bath in bottled water!
Mold resistant sanitary gel-coat
Bacteria and mold-resistant gel-coating makes cleaning your tub a snap.
Overflow Drain
Our discrete overflow drain prevents the water level from getting too high. However, never fill the tub past the bottom of the drain knob.
Auto-gravity purge jets*
Eliminate toxic mold and mildew build-up in the air bubble jets with our auto-gravity purge system.
*Not available on tubs with MicroSoothe®
Anti-scald technology
Never worry about hot water burns again with our scald-free faucets and automatic temperature regulation system.
Easy to clean composite surface
Our easy to clean surfaces mean less strain—no difficult and strenuous scrubbing is needed to keep the tub clean.
No-Strength Locking Handle
How can something this secure be so easy to use? You won't have to worry about leaks— or adding to your aches and pains— with a locking handle that's designed to take all the strain so you can enjoy your bath again!
Wider, safer door
Our tubs offer one of the widest doors on the market so those with mobility challenges can easily - and safely - enter and exit the tub. It's just one of the reasons why Safe Step Tubs are the industry leader in safety tub design.
17" ADA compliant seat
The easily accessible ADA compliant tub seat provides a safe bathing experience so those with aches, pains, or mobility limitations can regain their independence, dignity and comfort in the bathing experience.
Industry's leading low step-in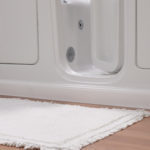 Entering and exiting the bath has never been easier for the elderly or those with arthritis or joint pain. Each tub features a walk-in step that's only 4" from the ground, uninstalled.
Easy to turn, quick release drain
Our Arthritis Friendly lever attached to the drain knob, makes it easy to open and close the drain with little to no effort
Aluminum Frame: solid support & long life
No other tub on the market can rival the infrastructure of a Safe-Step tub. Our products are engineered to the highest standards. This is why we build each tub with a long-lasting, durable aluminum frame that keeps you safe in your tub for years to come.
SCHEDULE YOUR FREE CONSULTATION
Regardless of your age or mobility; a safe, stress-free bathing experience is within your reach. Don't compromise on your cleanliness, safety or independence again! Schedule your free consultation today. A Safe Step Specialist is waiting to speak with you.